Santa Claus Visits Blue Gate Fields Infant School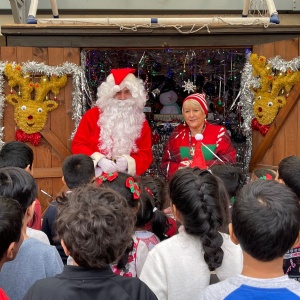 We were all very lucky to have a visit from Santa Clause on Wednesday last week!
He parked his sleigh on the school roof and came down the lift with his elf; Poppy, to hand out his presents.
All the children got to see him and each got their own present. Tom and Terry; the premises managers made sure his reindeer were looked after with fresh grass and some leaves from the trees in the playground whilst Santa saw the children.